Tampa Bay Cabinet Painting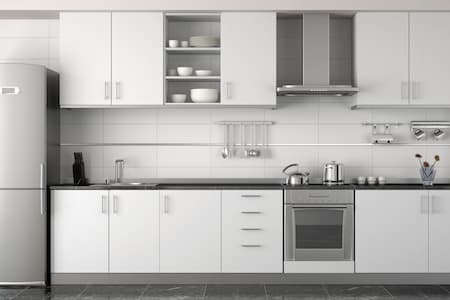 If you are unhappy with the cabinets in your kitchen or bathroom, but cannot afford to complete replace them, consider contacting Integrity Finishes of Tampa Bay to learn more about our professional cabinet painting solutions. Our Tampa Bay cabinet painting contractors have years of experience refacing and refinishing cabinets to suit the needs and style preferences of our clients.
Whether you have newly installed cabinets that are unfinished and in need of wood staining, or older cabinets that could use some wood refinishing or cabinet refacing, Integrity Finishes of Tampa Bay is the Tampa Bay cabinet painting contractor you can trust for quality results. Everyone who sees your painted cabinets will assume they are brand new, they'll look that good! We don't just slap a coat of paint over your kitchen cabinets.
We take time to refinish each part, from the cabinet doors to the framing, ensuring your kitchen painting project is a complete success. We also offer professional interior painting if you are looking to give your entire kitchen a whole new look without investing in a complete renovation. You'll be amazed at what a little cabinet painting can do to improve the look of your kitchen!
With over 30 years of experience providing house painting services and meticulous workmanship, Integrity Finishes of Tampa Bay is the house painting contractor you can rely on for a quality finish for your cabinets at an affordable price. Call Integrity Finishes of Tampa Bay, your reliable Tampa Bay painting contractor, today to learn more about our cabinet painting and refinishing services.
Services Our Tampa Bay Cabinet Painting Contractors Offer
Cabinet Painting

Kitchen Cabinets

Cabinet Refinishing

Cabinet Doors

Wood Refinishing

Refacing Cabinets
Paint Cabinets

Wood Staining

Kitchen Painting

Interior Painting

House Painting

Cabinet Painting Tampa Bay