Exceptional Finishes For Tampa Bay Docks & Decks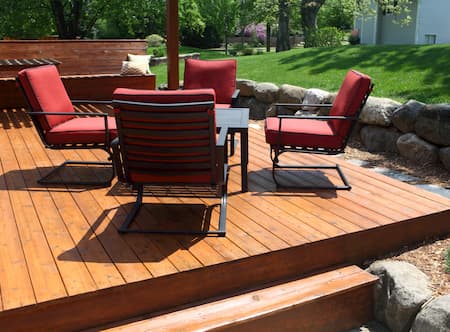 Are you building a new dock or deck for your Tampa Bay home? If so, you will want to be sure it is properly stained and finished to protect from the elements. The better the finish applied to a dock or deck, the longer the structure will last. Protecting the wood surfaces with a quality finish is vital because of exposure to heavy wear, UV rays, salt, dirt, wind, rain, and more.
Although the dock and deck finishing products need to last, they also need to come in a variety of beautiful options. Have you thought about the finished color you would like? Integrity Finishes of Tampa Bay would love to offer you assistance in finishing your dock or deck. We have been proudly serving the Tampa Bay and surrounding areas since 2004 and would love to help you create a gorgeous custom finish that makes you proud.
Quality Dock & Deck Finishing Products
At Integrity Finishes of Tampa Bay, we only work with the best. Not only are our Tampa Bay painting contractors highly skilled, but our products are top of the line.
Our preferred product manufacturer is Sansin®. They have a great line of products and colors which are ideal for new docks and decks.
Won't Crack

Won't Peel

Won't Blister

High-Wear Finishes

UV Protection Finish & Topcoat

Legendary Durability

Exceptional Water-Repellency

Perfect For All Docks & Decks Including Exotic Woods
There are a number of options to choose from that offer superior beauty and protection. Let our professionals at Integrity Finishes of Tampa Bay offer our painting services and expertise to you and find the perfect color and type of finish for your deck or dock.
Finish Color Options For Docks & Decks
When finishing your Tampa Bay dock or deck, you will have options in the translucency of the finish. In other words, you can let as much or as little of the natural wood grain show through as you want.
On exotic hardwood decks, of course you want as much of the natural wood beauty to shine through as is possible. You will probably want a translucent finish. Pressure treated decks may look best with a saturated to solid finish.
Translucent

Saturated

Ultra-Saturated

Solid

Custom
The Dock Or Deck Finishing Process
We mechanically sand your Tampa Bay dock or deck to refresh the wood surface. The surfaces are then thoroughly and gently cleaned. These two steps ensure proper adhesion and saturation of the finishing stains and sealants.
Our experts will then apply the coating of your choice from Sansin® which is best suited for your particular project.
DEC - Penetrating Two-Coat Finish

SDF - Penetrating One-Coat Finish

ENS - Premium Finish

ARDERA - High-Lustre Finish