Are You Looking For A Oldsmar Painting Contractor Today?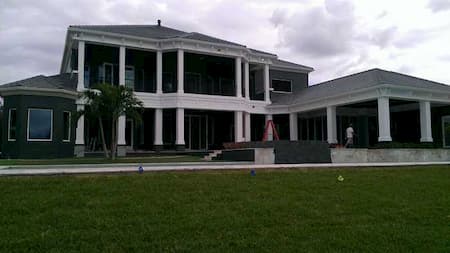 If you are looking for a reliable and professional Oldsmar painting contractor, look no further! At Integrity Finishes of Tampa Bay we are the Oldsmar painting contractor of choice.
We started as a small, local Oldsmar painting contractor, and have since grown to have over 20 employees that provide great work, attention to detail and outstanding customer service. With our small painting company feel and large company abilities we can meet any demanding schedule. For the new homeowner in Oldsmar, we specialize in being able to meet your move-in deadline! We use only Sherwin William's products for our exterior and interior painting projects. Our entry door restoration is second to none, too. Residential or commercial, we've got your painting service needs covered.
Benefits of choosing us as your Oldsmar painting contractor:
Licensed & Insured Painting Contractors

Affordable Prices with No Surprises

Quality Service

Large Job Specialists

No Sub Contractors!
Integrity Finishes of Tampa Bay does not use sub contractors. All the work performed is done by our team of professional Oldsmar painting contractors that are safe, qualified and efficient. Most painting contractors in the Oldsmar area do not have enough qualified painters on staff to meet demanding deadlines. Integrity Finishes of Tampa Bay is the Oldsmar painting contractor that does, though! We never miss a deadline - guaranteed!
Integrity Finishes of Tampa Bay - Oldsmar House Painter
Integrity Finishes of Tampa Bay is the Oldsmar house painter you can trust for a quality finish on both the interior and exterior of your home. From molding and trim to wallpaper removal and interior painting, we are the Oldsmar house painter that can meet all deadlines and budgets!
When you choose us to serve as your Oldsmar house painter, you can expect quality service and affordable prices on our great products. Our professional Oldsmar house painters are prompt and courteous, and our proposals are our final price. No surprises or unexpected fees! Whatever your house painting needs are in Oldsmar, you can rely on Integrity Finishes of Tampa Bay to take care of everything.
Oldsmar Interior Painters
Our Oldsmar interior painters provide a variety of interior painting services including texture painting and wallpaper removal. Need trim and molding installed or painted? Our Oldsmar interior painters can take care of that, too! Our painting services are not limited to residential painting, either. We specialize in large jobs, too, such as commercial painting and office painting project for businesses throughout the Oldsmar area.
When you need a professional and reliable Oldsmar interior painting contractor, call Integrity Finishes of Tampa Bay. Our Oldsmar interior painters are more than willing to help with your interior painting project.
Oldsmar Exterior Painting
If you have an older home in Oldsmar and want to choose colors for your exterior painting project other than the standard paint colors you've been stuck with for a while, here are some guidelines:
Light colors "advance" the Oldsmar exterior painting of a home while dark colors cause it to "recede". This means that lighter shades of exterior paint will make your home appear larger and closer to the street, while darker shades make your home seem smaller and further away. If you want your house to blend in and be less noticeable, therefore, a darker hue is best.

Light dramatically affects how colors appear to the human eye. In southern climates such as Florida, the harshness of brightness of the sunlight in Oldsmar causes pale tints to appear washed out. So go with a color that is more vibrant for your Oldsmar exterior painting project.

If you want your gutters and downspouts to be less noticeable, paint them the same color as the house.

Make sure any mildew problems are solved before you being your Oldsmar exterior painting project. Test suspicious spots with household bleach and if they change color, you definitely have a mildew problem.

Moisture problems are common in Oldsmar, but these must be eliminated before exterior painting beings. If they are not, water will ruin even the best paint job.
It's always possible to get expert help from an expert Oldsmar painting contractor. This is especially a good idea if you own a historical landmark and wish for it to be restored to its former appearance.
Recent Projects In Oldsmar