Budget-Friendly Tip: Cabinet Painting For Your Kitchen Remodeling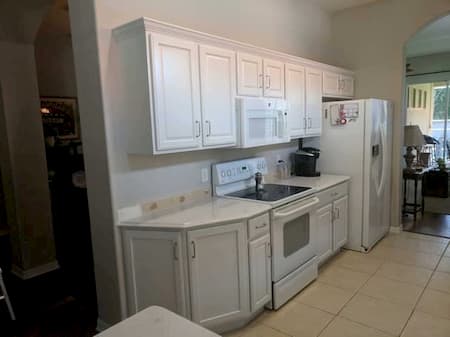 Every kitchen can stand some updating, from time to time. The trick is getting a new look, and implementing new appliances, while keeping it all under budget. This is where the option of painting your existing cabinets comes into the picture, and here is what you need to know about it.
The Benefits Of Kitchen Cabinet Painting
If the existing cabinets in your current kitchen in your Tampa Bay home are in at least fair condition, you should really consider saving them, as well as saving a big part of your budget.
Did you know that kitchen cabinets consume as much as 40% of your remodeling budget, or approximately $5,000-$8,000? Unless you have your heart set on new cabinets, why not save yourself some money, time and aggravation by opting for renovating the cabinets you already have in place.
New cabinets can also take anywhere from 3-6 weeks, including the demolition and installation process. However, painting what already exists takes about half of that, if not less. In most cases, the cabinets already in the kitchen are still in good enough condition to reuse. So why waste the time and money?
What many people do not realize is just how wide a variety of options you have by refinishing your existing cabinets. You can completely change the look so your newly remodeled cabinets look nothing like what they did originally.
Painting the cabinets that you already have is also an important way to make sure your project is more environmentally responsible. By using existing materials, you help make a contribution to a more Eco-friendly lifestyle. When otherwise decent cabinets end up taking up space in a landfill, it is a huge negative step in the wrong direction for carbon footprints.
Getting The Best Results
With over three decades of expertise in the industry, you can trust that the painting contractors of Integrity Finishes of Tampa Bay will provide you with the level of superior paint service that you want. Whether you know you want to repaint your kitchen cabinets, or just find out more about this option, we can assist you. For all of your painting service needs, let us prove to you that our company name is earned and we really do offer the best in integrity, in all we do.