Options In St. Petersburg: Special Faux Kitchen Cabinet Painting Finishes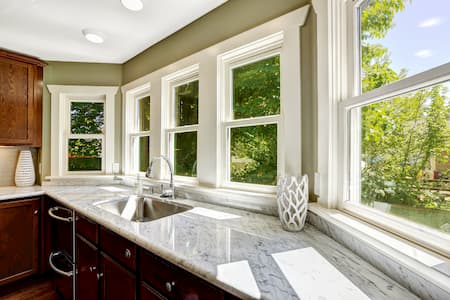 From simple cabinet painting finishes to ornate, intricate detail, having your St. Petersburg kitchen cabinets repainted is a wise option instead of removing and replacing them. Most kitchen cabinets are durable and long lasting, though the finish can wear off or you simply get bored with the look and want something new. Having them painted by a St. Petersburg professional painting contractor will give you a special faux finish brings about a great new look and design appeal.
Integrity Finishes of Tampa Bay loves to help St. Petersburg and other customers in Florida with their kitchen cabinet painting and great design advice. Revamping your kitchen with this option is going to be so much fun because your options are wide open! Here is a little bit of information to help you learn of some St. Petersburg special faux finishes for your kitchen cabinets.
Cherry Apple Red High Gloss Cabinet Painting

Gray Slate Flat Finish Cabinet Painting

Electric Blue Modern Kitchen Cabinet Painting

Simple Wood Finishes in Cabinet Painting

Painting Antiqued Kitchen Cabinets

Distressed Finishes For Kitchen Cabinet Painting

Painted Metallic Finishes For Kitchen Cabinets

Kitchen Cabinet Faux Marble Painting Technique
Distressing & Weathering Kitchen Cabinet Painting Technique
With kitchen cabinet painting, the distressing technique gives you a comfortable, casual tone in your St. Petersburg home. This is great for a old, time-aged wood look that enhances the character and charm of your home. The technique involves painting the finish with techniques to distress the surface. While anyone can take a tool and scrape or cut into the cabinet, distressing with painting does take skill to make it turn out right.
Glazing For Kitchen Cabinet Painting
With glazing for St. Petersburg kitchen cabinet painting, the finished look is a semi-transparent finish that holds a wash of color. The color wash is applied over a paint color that goes on first. This gives you a deposit of color that enhances details of any ornate or simple molding on the kitchen cabinets.
For this type of work, you need a Tampa Bay painting contractor who knows all about faux painting techniques. Whether you want a new wood type finish or you want to go with an amazing contemporary finish, the kitchen cabinet painting takes a skilled, steady, and experienced hand.
Antiquing For Kitchen Cabinet Painting
With antiquing done by a St. Petersburg professional, you get a beautiful finish for your kitchen cabinets that makes them look like they have stood the test of time well. This patina is stunning if done right. Antiquing can involve certain kitchen cabinet painting techniques with distressing. Your professional painting contractors may choose paint for the antique finish or a hand-rubbed finish for added character.